Attention Metlakatla Community: Interested in helping our RJES Space Exploration Club purchase a telescope? Please see the letter from Joe Henry to learn more! 🔭 You can also read the letter here:
https://5il.co/1pjlj
#rjes #spaceexplorationclub #space #students #richardjohnsonelementary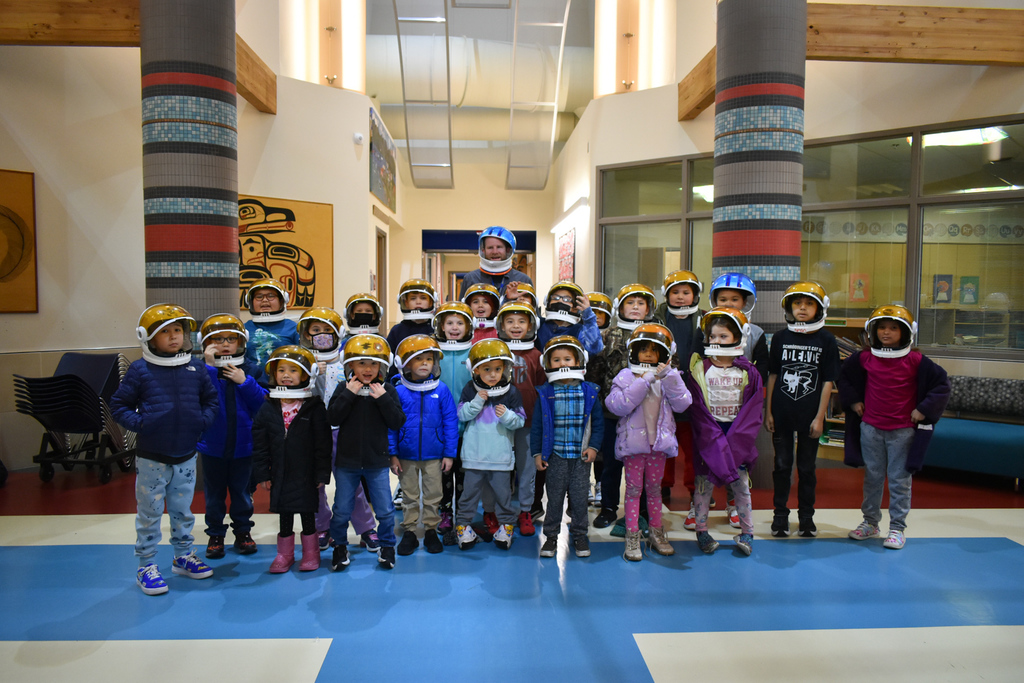 Congratulations to our January winner of the Golden Apple Award of Excellence, Chelsea Martinez! Here's what the nominator had to say: "No matter what it is Chelsea gives 110%. She is passionate and dedicated to serving students, staff, and families. She spends countless hours not only ensuring that students have the tools to achieve their dreams and goals, but also enhancing our community as a whole." Way to go, Chelsea! #goldenappleawardofexcellence #aisd #aisdproud #staffrecognition #metlakatla #alaska #education

Up next for our Class of 2023 Senior Highlight: Pyper Booth! #metlakatlahighschool #classof2023 #metlakatla #alaska #senior2023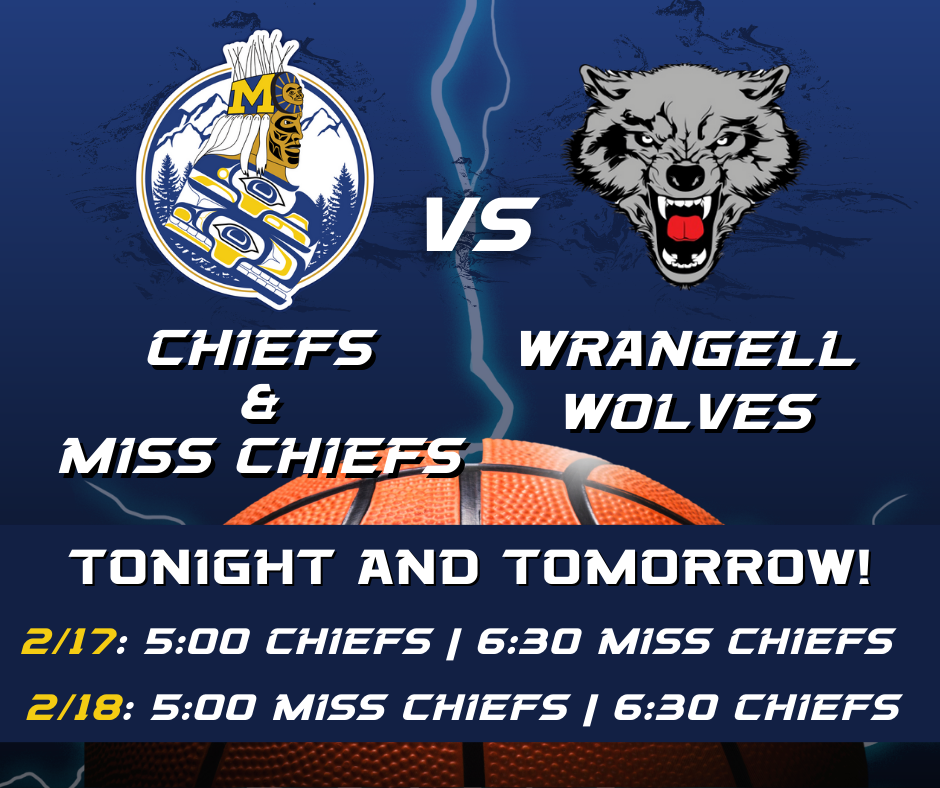 Attention AISD Community: If you haven't already, please take a moment to complete MIC's survey on recreation and outdoor activities in Metlakatla:
https://tinyurl.com/ybwnbmwz
If you complete the survey, you'll be entered into a drawing to win prizes from AC & Annette Island Gas! The survey closes February 28th. #metlakatla #community #recreation #alaska #survey

Our CLMS Wrestlers are headed for their meet in Juneau! Good luck to all of our athletes- Wayi Wah! 🤼 #charlesleaskmiddleschool #wrestling #metlakatla #alaska #education #middleschool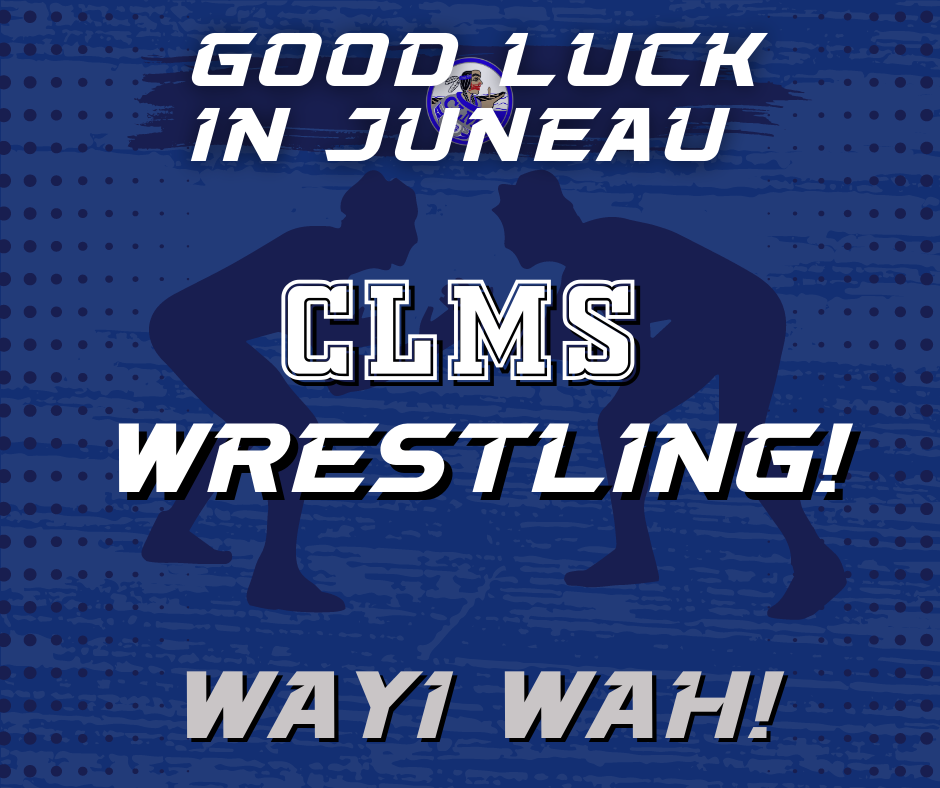 REMINDER! 📣 TODAY Thursday 2/16: Early Release District Wide for students @ 1:30 (MS/HS Early Start 8:10) Friday 2/17: NO SCHOOL for students, District Wide Staff In-Service Monday 2/20: NO SCHOOL- President's Day #aisd #aisdproud #metlakatla #alaska #schedule
Reminder! There is NO SCHOOL Monday February 20th for President's Day. Enjoy your 3-day weekend! #annetteislandschooldistrict #metlakatla #aisd #alaska #education #presidentsday #school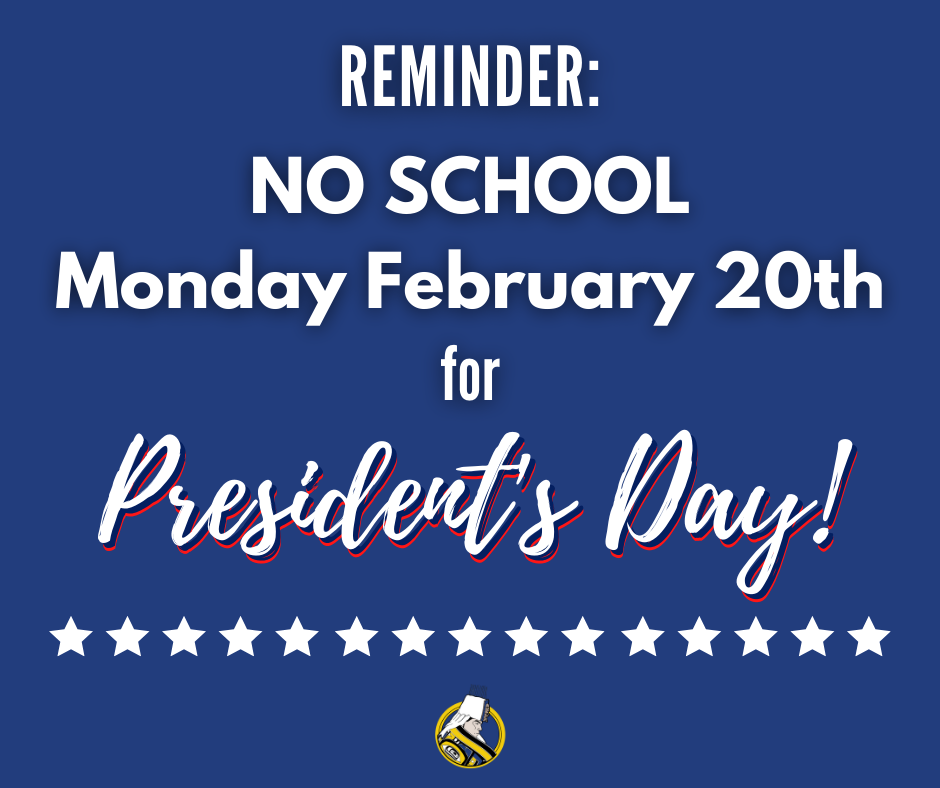 Our Chiefs and Miss Chiefs varsity teams take on the Wrangell Wolves at our home court THIS Friday and Saturday, 2/17 & 2/18! Wayi Wah! 🏀 2/17: 5:00 Chiefs | 6:30 Miss Chiefs 2/18: 5:00 Miss Chiefs | 6:30 Chiefs #gometlakatlachiefs #gometlakatlamisschiefs #metlakatlahighschool #basketball #metlakatla #alaska
Attention AISD Families: The School Climate and Connectedness Survey is open NOW through March 24th! The results of this anonymous survey will help continue our efforts toward a safe, supportive, and caring place for all students. The survey is open to one parent/guardian per student, per school. If you have students in different schools, you are welcome to take the survey more than once. Once you have completed the survey, you can send a screenshot of the "Thank You for taking our survey!" page at the end of the survey with your name and phone number to
ashellabarger@aisdk12.org
to be entered into a raffle for a $100 AC Gift Certificate! Click the appropriate link below to get started on the survey: Family Link-RJES
https://surveys.panoramaed.com/aasb/60030family
Family Link-CLMS
https://surveys.panoramaed.com/aasb/60020family
Family Link-MHS
https://surveys.panoramaed.com/aasb/60040family
You can also view the flyer here:
https://5il.co/1o1w2
#aisd #aisdproud #education #metlakatla #alaska

Regionals tickets and passes are now on sale! 🎟🏀 If you're going to Juneau in March to cheer on our Chiefs & Miss Chiefs, click the link to get your tickets!
https://tmhs.juneauschools.org/en-US/athletics-3856ac41
#gometlakatlachiefs #gometlakatlamisschiefs #metlakatlahighschool #metlakatla #basketball #alaska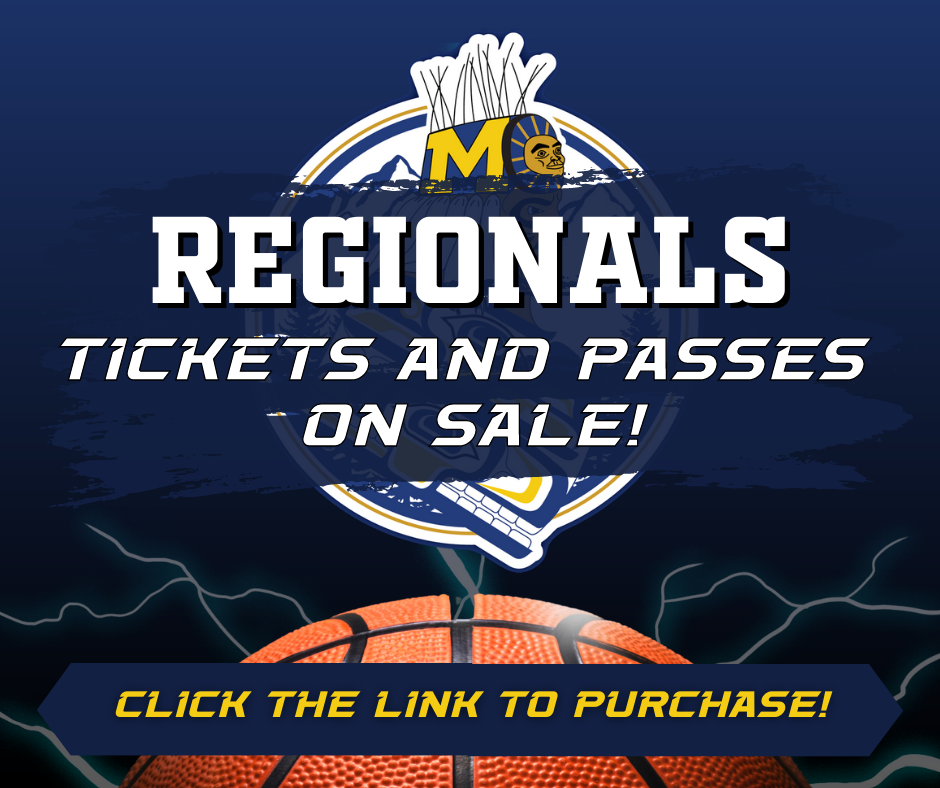 Our Chiefs fundraising JV Game & Mixed Scrimmage is happening now! We're selling "vintage" Chiefs & Miss Chiefs Gear, Indian Tacos, Super Nachos, and Giant Soft Tacos! 🌮🏀 #metlakatlahighschool #metlakatla #gometlakatlachiefs #wayiwah #fundraiser #basketball
Tomorrow our Junior Class is holding a Valentine's Day Sale! 6:00pm in the MHS Commons! 🍰 #metlakatlahighschool #fundraiser #metlakatla #alaska #valentinesday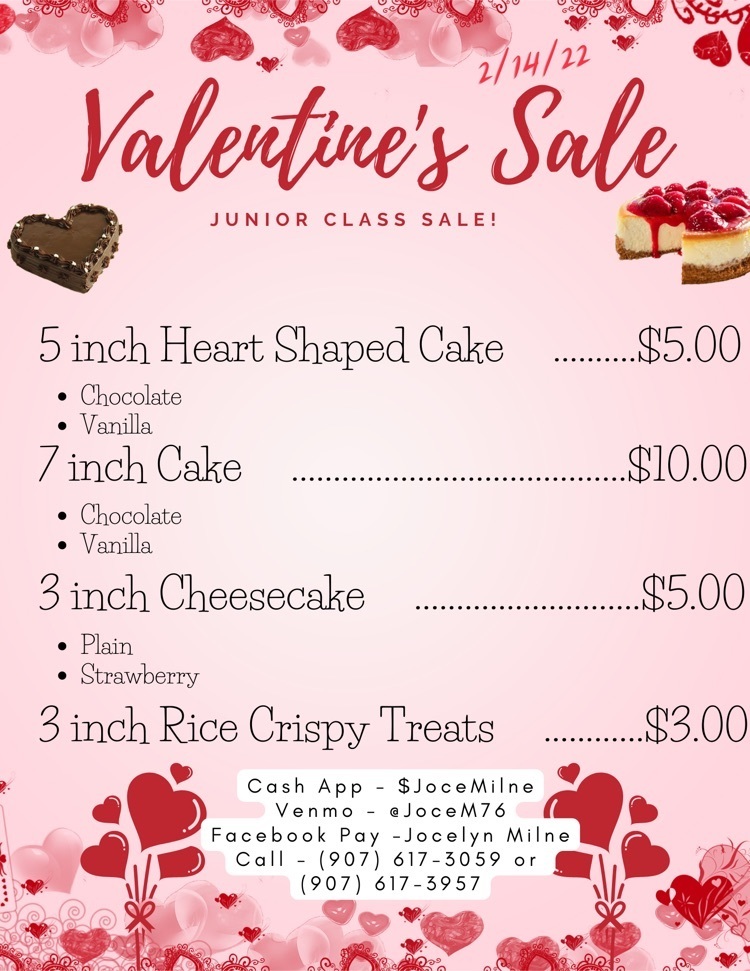 It's time to start our Class of 2023 Senior Highlights! First up: Jasper Booth! 🎥 #metlakatlahighschool #classof2023 #metlakatla #alaska #highschool #senior #education

Our Chiefs Fundraiser and Mixed Scrimmage is TONIGHT(Monday 2/13)! 🏀 Our JV team will play at 5:30 and the scrimmage games will start after. We will also be selling VINTAGE Chiefs Jerseys, concessions, and Indian Tacos! Wayi Wah! #metlakatlahighschool #metlakatla #alaska #gometlakatlachiefs #athletics #basketball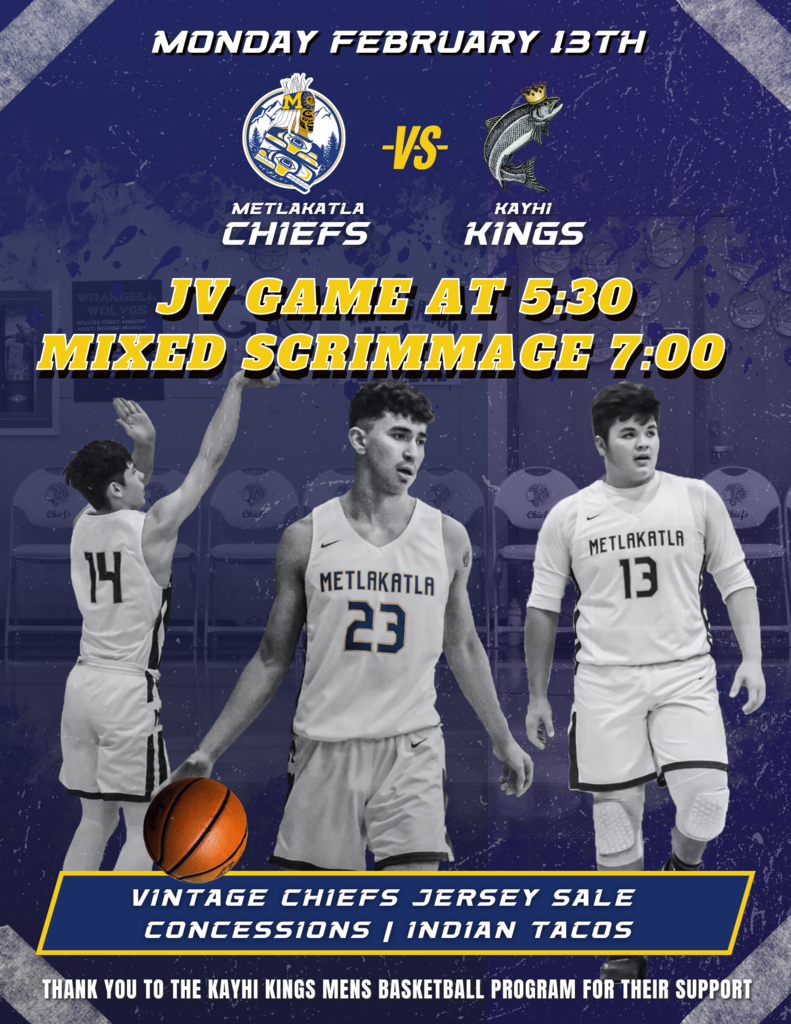 It is that time of year again! We are looking for the Class of 2023 Scholarship fund donations. Our committee is extremely proud of the contributions that are donated each year and take this fund seriously when awarding applicants. Please let Chelsea Martinez know if you have any interest or further questions:
cmartinez@aisdk12.org
, 509-855-2958 #metlakatlahighschool #metlakatla #alaska #education #scholarship #community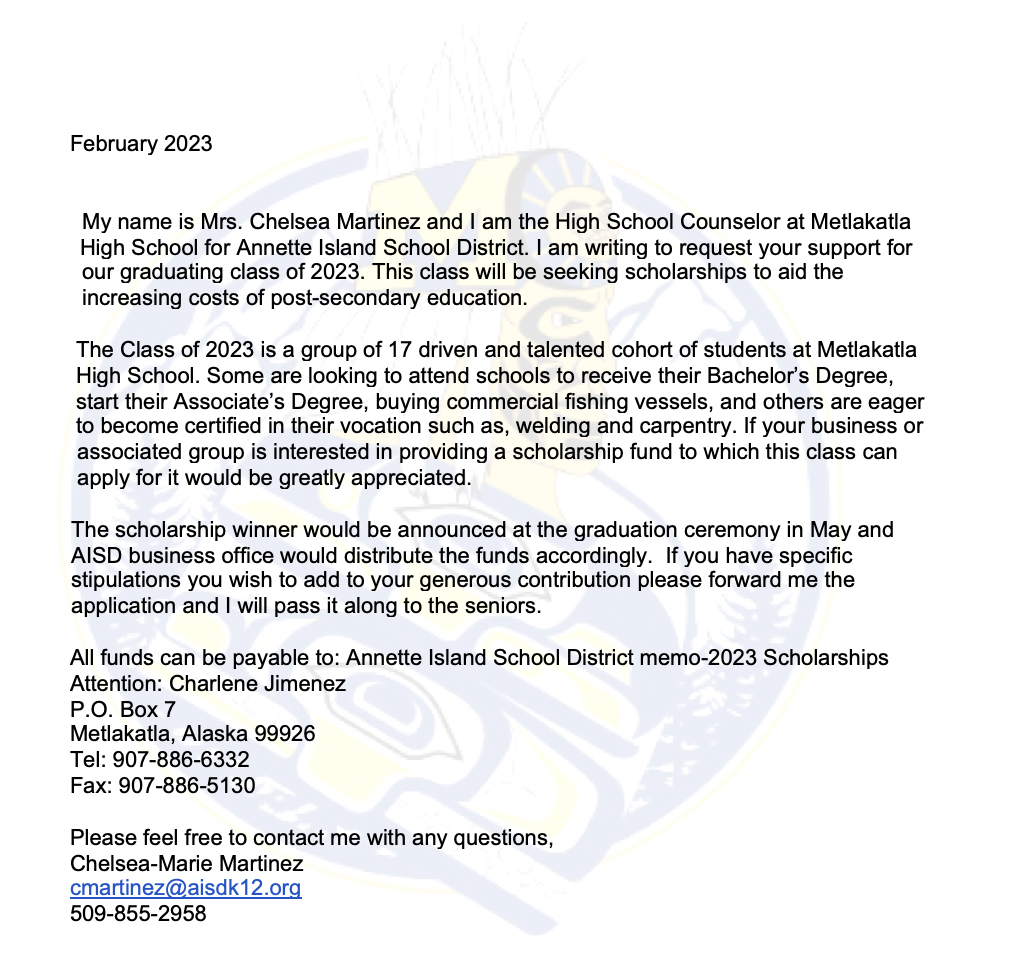 Don't forget to check out these summer options that the high school students have been presented with: College Horizons & Rural Alaska Honors Institute! These are GREAT Summer programs for high school students. The applications are due March 1st. Please let Mrs. Martinez know if you have any questions. You can also view the flyers here:
https://5il.co/1oz3h
https://5il.co/1oz3i
#metlakatla #alaska #metlakatlahighschool #summerprograms #college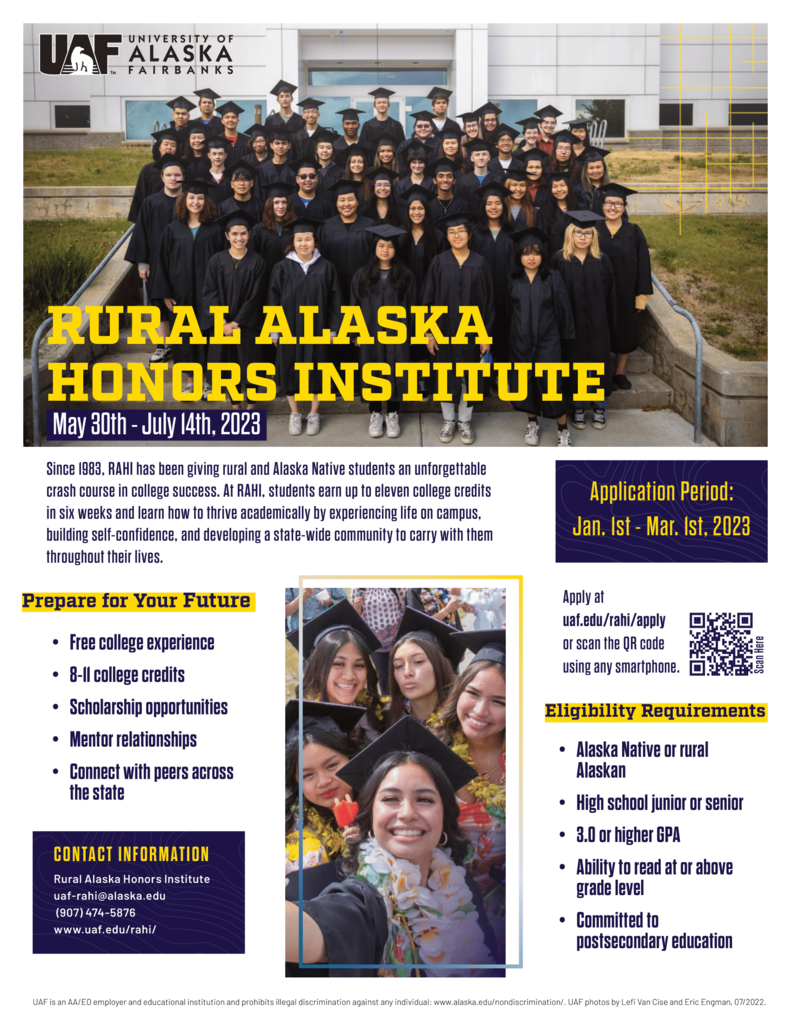 In addition to our games this weekend, we are also hosting a Chiefs Fundraiser and Mixed Scrimmage on Monday 2/13! 🏀 Our JV team will play at 5:30 and the scrimmage games will start after. We will also be selling VINTAGE Chiefs Jerseys, concessions, and Indian Tacos! Wayi Wah! #metlakatlahighschool #metlakatla #alaska #gometlakatlachiefs #athletics #basketball